Bright Sparks After School Art Program - TERM 2 2020
Time: 4pm – 5.30pm
Dates: Wednesdays // 6 May – 1 July 2020
Ages: 8 - 11 years and 12 - 17 years
Where: Ignite Studios @NRCG - 60 Crane St Ballina
FEES
$220 Full Term
$130 Casual Bundle (5 classes)
$30 Trial Pass (single class)
ALL MATERIALS INCLUDED
This term we are running two separate classes for ages 8 – 11 years with Imbi Davidson, and 12 – 17 years with Natlaie Grono. Imbi's class will introduce students to various techniques in printmaking and painting, while Natalie's class will build skills in contemporary photography.
Prepayment essential to secure a place.
Facilitators: Imbi Davidson and Natalie Grono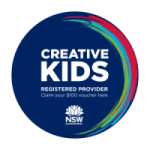 As a registered provider for the Creative Kids program, you can redeem your voucher with us and create something great. If you don't have a voucher, please visit service.nsw.gov.au.
Booking Terms
Please choose your class carefully.
Due to our class sizes, once you have booked and paid we will only provide a refund if the class is unable to go ahead. If there is a waiting list for your class and the Gallery can successfully offer your space to another student a refund for the workshop cost, less a booking fee of 5% will be provided when the replacement student has paid in full.
Be sure to sign-up to our E-News or follow us on Facebook or Instagram to be kept in the loop!