Bright Sparks After School Art Program - TERM 4 [[ FULL]]
Time: 4pm – 5.30pm
Dates: Wednesdays // 23 October – 18 December 2019
Ages: 8 - 15
Where: Ignite Studios @NRCG - 60 Crane St Ballina
FEES
Full Term: $220 (9 x classes)
Casual Bundle: $130 (5 x classes)
Trial Class: $30 per class
ALL MATERIALS INCLUDED
Learning from our artist facilitators, Bright Sparks - After School Art program aims to develop budding artists' creative skills and nourish young imaginations through exploring different themes, art materials and techniques.
This term students will explore the relationship between drawing and sculpture, a thought-provoking program to challenge and inspire creative thinking. In the stimulating workshop environment of Ignite Studios, students creative capabilities will be developed and build confidence in adapting to new materials and techniques ranging from drawing, sculpture, painting and storytelling. This course will also refocus the students approach to the found object and the benefits of working on a collaborative project. Please see below program.
Bright Sparks - a youth art program for those looking for something outside the square!
Prepayment essential to secure a place.
*** TERM 4 FULL ****
Thank you for your interest in our Bright Sparks After School Program. This class is now full and we are no longer taking bookings but you can sign up to a waiting list via the booking link below or call the Gallery on 6681 0530.
Bright Sparks Term 4 - 2019 Program

THE ART OF SCULPTURE

Week 1
FOUND OBJECT 2D ASSEMBLAGE ARTWORK
Artists: Kurt Schwitters | Shinro Ohtake
Week 2
2D CARDBOARD ABSTRACT FACES
Artists: Picasso & Miro
Week 3
3D GEOMETRIC ABSTRACT SCULPTURES WITH CARDBOARD
Artists: Miro & Calder
Week 4
3D GEOMETRIC ABSTRACT SCULPTURES WITH WOOD
Artist: Brancusi
Week 5
COLLABORATIVE SCULPTURE
Artist: Rauschenberg
Week 6
ANIMAL WRAPPERS
Artist: Hiromi Tango
Week 7
WIRE SCULPTURES
Artist: Calder & Giacometti
Week 8
WIRE, PLASTER & STICK FIGURE SCULPTURES
Artist: Giacometti
Week 9

POP-UP EXHIBITION IN ENGINE ROOM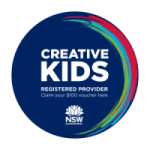 As a registered provider for the Creative Kids program, you can redeem your voucher with us and create something great. If you don't have a voucher, please visit service.nsw.gov.au.
Booking Terms
Payment is for the full cost of the course regardless of attendance. Unused sessions from one term cannot role over to another term. Participants are entitled to a full refund if Northern Rivers Community Gallery cancels the workshop for any reason prior to its commencement.