Bright Sparks After School Art Program - TERM 2 2020
Bright Sparks Term 2 Program has been cancelled due to Covid-19 restrictions .
This term we are running two separate classes for ages 8 – 11 years with Narelle Bretherton, and 12 – 17 years with Natalie Grono.
Narelle's class will introduce students to various techniques in printmaking and painting, while Natalie's class will build skills in abstract photography.
CLASS OUTLINES
Paint and Print with Narelle Bretherton

Years:
8 - 11

Outline:

Students will be introduced to the many ways of using paint for printmaking, and the idea that you can print with just about anything! The term program will include; mono-prints, found object printing, image transfer techniques, nature prints and more. Participants will create multiple image prints, and work towards using our new skills to produce a final wonderful layered, mixed media artwork.

Learning Areas:

Printmaking: skill and technical devleopment
Painting: skill and technical development
Mixed Media

What to Bring:

All materials provided.
---
Abstract Photography with Natalie Grono

Years:
12 - 17
Outline:
This term students will explore abstract photography, mixed media and self-portraiture. In a series of fun and inspired photographic explorations students will learn to look at objects in a distinctive way transforming the world as we know it into an abstract web of forms, lines and colours. The workshop will also focus on creating a carefully composed and well thought out self-portrait using layers of mixed media. The course will cover camera and photographic skills whilst focusing on releasing a creative dynamism aspiring to shift perceptions.
Learning Areas:

Camera and lighting
Various Mixed Media
Creative Collaboration

What to Bring:

Your own digital camera or smartphone if you have one but not essential as there will be a shared camera available for use.

For the first session bring/wear clothes that you would like to be photographed in for your self-portrait.
---
Prepayment essential to secure a place.
Facilitators: Narelle Bretherton and Natalie Grono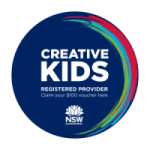 As a registered provider for the Creative Kids program, you can redeem your voucher with us and create something great. If you don't have a voucher, please visit service.nsw.gov.au.
Booking Terms
Please choose your class carefully.
Due to our class sizes, once you have booked and paid we will only provide a refund if the class is unable to go ahead. If there is a waiting list for your class and the Gallery can successfully offer your space to another student a refund for the workshop cost, less a booking fee of 5% will be provided when the replacement student has paid in full.
Be sure to sign-up to our E-News or follow us on Facebook or Instagram to be kept in the loop!