Banyan Hill Mural Project 2019

NATIONAL YOUTH WEEK ARTIST WORKSHOP
As part of National Youth Week 2019, Northern Rivers Community Gallery in collaboration with mural artist Emily Devers, delivered a participatory Urban Art Workshop with Ballina Coast High School and Xavier Catholic College at Ignite Studios.
The youth art workshop was coordinated in tandem with a large scale mural project carried out by Emily Devers as part of Creative Road – Banyan Hill Estate Water Reservoir development. Students worked to develop creative concepts responding to themes of 'when the country meets the sea' and the role of biodiversity in the local environment. Their concepts were then translated onto two large scale panels at Ignite Studios with professional mentorship and skill development facilitated by artist Emily Devers.
ABOUT BANYAN HILL ESTATE MURALS
Internationally acclaimed Australian contemporary artist Emily Devers worked closely with Creative Road and Ballina Shire Council to deliver the project. Devers' public art can be seen across Australia and internationally in San Diego, Morocco, Hawaii, Mexico and New Zealand. She is also Director of Sea Walls Australia, Australia's first environment focused public art festival.
Facilitated by local specialist curatorial agency Creative Road who are responsible for many of our country's most prominent public artworks, the two water reservoirs within Banyan Hill have been reimagined as an outdoor gallery space. In deference to the typography of the site and diverse ecology of the area, one reservoir reflects themes of "land" and the other themes of "water", with a visual crossover acknowledging the point where land meets sea.
The works, are visible from the Pacific Highway as well as from within the new residential community.
To read more, visit Banyan Hill Estate HERE
SESSION TIMES
Thursday 11 April
FEES
This is a FREE event for National Youth Week
LOCATION
Ignite Studios, 60 Crane Street, Ballina
Ages: Youth Only (Ages 12-25)
Facilitator: Emily Devers
All materials included
Be sure to sign-up to our E-News or follow us on Facebook or Instagram to be kept in the loop!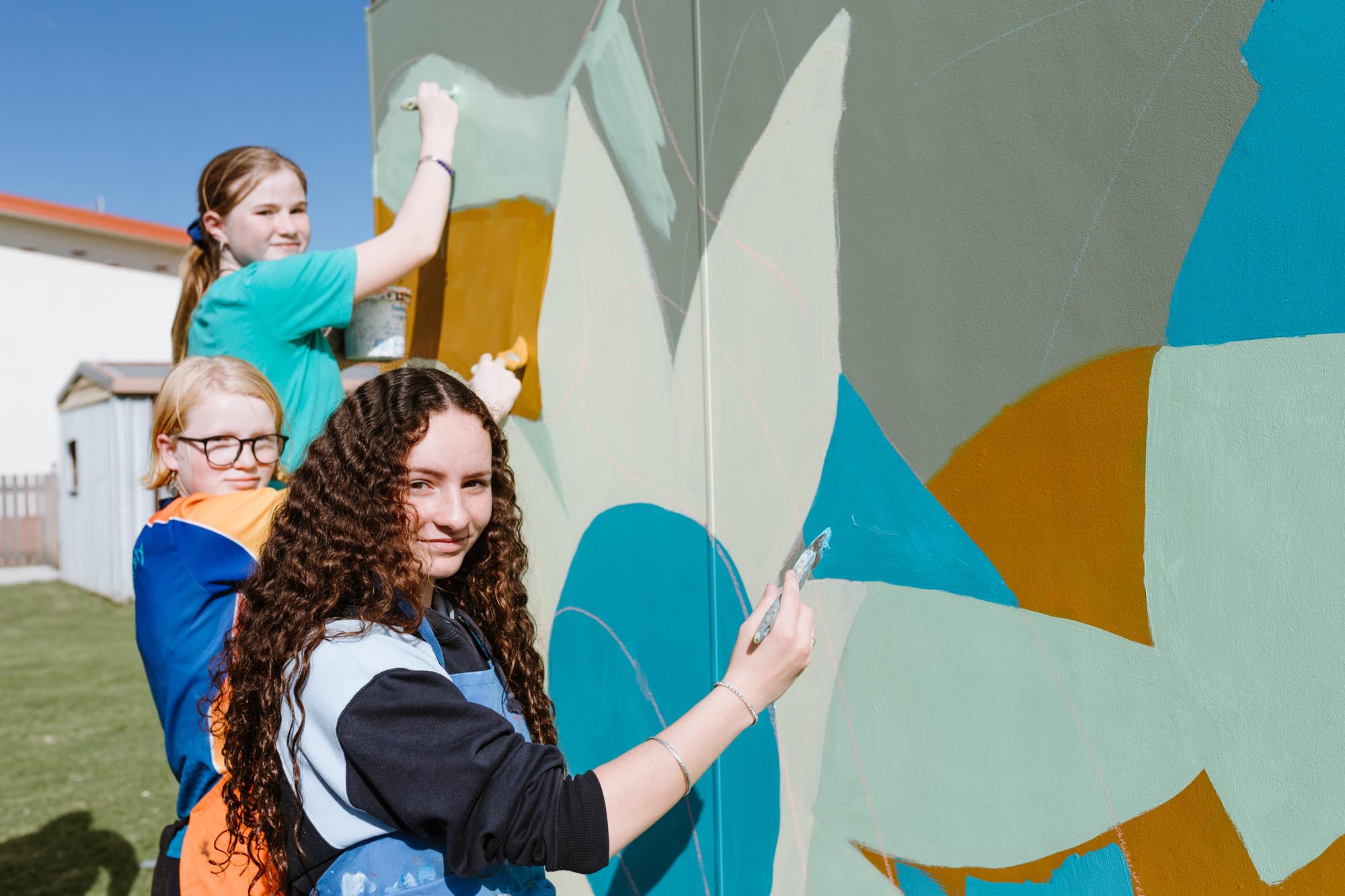 Image Credits: (Top) Emily Devers, Banyan Hill Murals, Ballina, 2019; (Bottom) Ben Wyeth, National Youth Week Urban Art Mural Workshop, Ignite Studios, 2019.