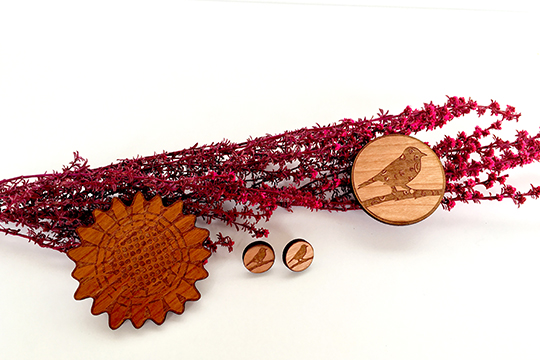 Katie Alleva majored in printmaking at Charles Sturt University in Wagga Wagga. Soon after graduation Katie travelled to Amsterdam, Italy, Switzerland, Scotland and England visiting art galleries and museums along the way. Katie relocated to Greenwich in London in 1999 and spent a year working in London, Covent Garden, at the London Graphic Centre. During that time Katie exhibited in Greenwich, Hull and at Covent Garden.
Upon returning to her home town Katie was successful in landing a solo show at the Wagga Wagga Regional Gallery named Light Source. She won a Crow Award from the Wagga Wagga City Council, promoting young talent. Katie was later nominated by the Friends of the Wagga Wagga Regional Art Gallery for Young Australian of the Year, (Arts Section) in 2001.
Katie moved to the Northern Rivers in 2002 and completed a Bachelor of Secondary Education at Southern Cross University in 2003. After becoming a fully qualified Secondary High School Teacher of Visual Art, Katie worked in many high schools in the Northern Rivers.
In 2009, Katie was a creative teacher at the Still@the-centre art school in Byron Bay and facilitated workshops for Primary school students.
Artist's quote

"Along the winding path I look for inspiration in the simplest of places. I look down at my feet as they walk, up to the sky, out towards the horizon and I always look up at trees. The wonder of nature ignites my imagination and stirs my heart. It's the 'little things' that matter to me. I work very intuitively and spend a long time contemplating each piece. I love simplicity and balance some days, then other days I like entropy and imperfection. I seek a fusion of these ideas at present, so keep watching as it all unfolds."