News

We're Hiring


Gallery Services Officer - Position Vacant
About the Role
The Gallery Services Officer reports to the Gallery Coordinator and is responsible for providing high level administrative services to support Gallery operations. This includes but is not limited to, the provision of a high standard of customer service, managing the reception and volunteers, being the first point of contact for the Gallery, promoting public awareness of Gallery programs, facilitating administrative and retail services and responsibility for opening and closing procedures.
The role requires forward thinking and planning, strong organisation and time management skills, a warm personality and good people skills. The Gallery Services Officer must possess the capacity to work in a busy environment, and have a flexible approach to providing general assistance across various aspects of Gallery operations and have a high level of attention to detail, enthusiasm, and a sense of initiative.
This part-time position is for 21 hours per week to be worked on Wednesday, Thursday and Friday.
Further information or to APPLY READ MORE

April 2017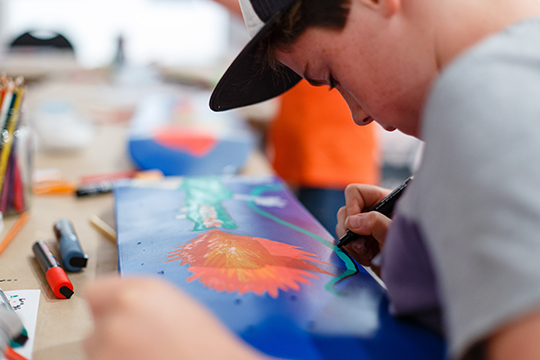 Images courtesy of Ben Wyeth Photography

Image courtesy of Ben Wyeth Photography

Image courtesy of Ben Wyeth Photography

Images courtesy of Ben Wyeth Photography

Jeremy Austin | Design-A-Deck

20 April 2017
Jeremy Austin joined us for a 2 hour skate graphics session, guided participants through creating their very own skate deck design. Participants learnt how to make an artwork from hand-drawn mark makings and to painting it onto a skate deck, so everyone walked away with an interesting and unique skateboard.
Sign up to our e-News to hear more about upcoming workshops and events.

Artist Bio
Jeremy is a local visual artist who works in a variety of mediums out of his studio in Lismore. A young Jeremy was busy soaking up the art of comic books, graphical science fiction books and Letraset lettering catalogues. Now a keen painter, illustrator, street-artist and a self taught screen-printer, Jeremy prints his artworks onto T-shirts and continues the exploration in mark-making by creating new works on canvas, paper and outdoors using recurring characters and motifs as a vehicle for the continued study into catatonic automatic drawing as well as muscle memory schematic drawing with the aim of bringing the immediacy of compressed line work from sketchbook to canvas to walls.

Event Sponsor: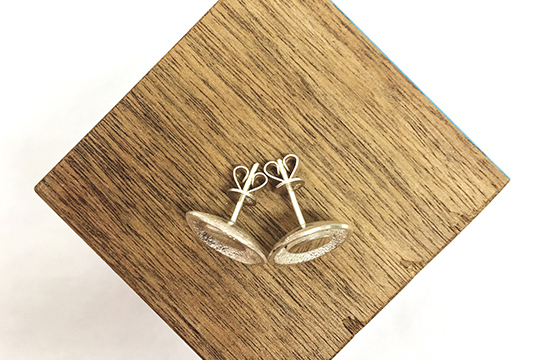 Lucille Atkins
Lucille Atkins is a jeweller/designer, currently studying at the Queensland College of Arts, Griffith University. Her objective is to create wearable jewellery/sculpture that uses already existing materials in an attempt to lessen her participation in the environmental degradation and human rights violation that can occur when any metal is mined.
Make sure to drop in to the Gallery Shop to see the range of Lucille Atkins we stock.
Support this amazing local creative talent - buy local, buy hand-made @ NRCG!