News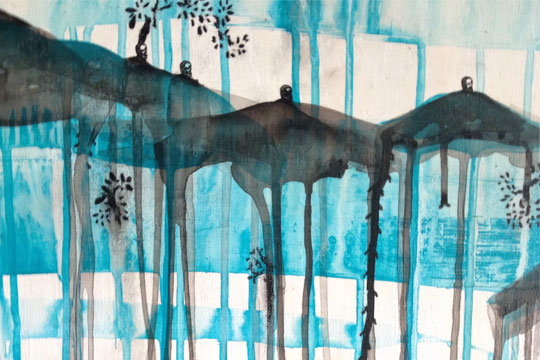 Paradise Found by Fleur Yorston
Visitors to the Ballina Byron Gateway Airport will receive a contemporary take on a traditional islander welcome this September and October with an oversized interpretation of a Hawaiian Lei, by artist Fleur Yorston, on display in Northern Rivers Community Gallery's (NRCG) latest Art at the Airport showcase.
Paradise Found is inspired by the artists upbringing in multi-cultural, Polynesian New Zealand (Aotearoa) and her own personal migration to Australia in 2009. Yorston invites her audience to ask themselves "What is your Paradise Found...?"
In the show an iconic Australian symbol - the Surfboard becomes a metaphor for a canoe (Waka in NZ) that 'First Explorers' used to cross oceans in search of new lands and new paradises. Intentionally it is juxtaposed next to an oversized interpretation of a Hawaiian Lei, traditionally given as a welcoming adornment upon arrival to visitors.
A painting also features in the show called 'Floating The Islands towards their paradise'. Fluid and transparent islands become vessels, highlighting the fragility of ones journey and the unknown destination of a paradise.
Pecha Kucha 20 / 20
Call-out for creative Pecha Kucha 20 / 20 presentations!
Do you have a fabulous creative project, idea or passion you would like to share with your peers?
'The Point of Art is…' – is the theme for the inaugural Pecha Kucha 20 / 20 evening as part of the ArtLAB project at Northern Rivers Community Gallery in October. A creative community get together for sharing ideas, works, innovations, collaborations, travels or any other quirky fabulous creative things happening far and wide you think people just need to know about!
Pecha Kucha 20 / 20 is a simple, fun, upbeat presentation format where you show 20 images, each for 20 seconds in a digital slide presentation. The images advance automatically while you tell us your story.
The Pecha Kucha 20 / 20 event is on Saturday 3 October from 7pm at the NRCG in Ballina.
To register your interest to present contact the Gallery Coordinator by email This email address is being protected from spambots. You need JavaScript enabled to view it. or telephone 02 6681 6167.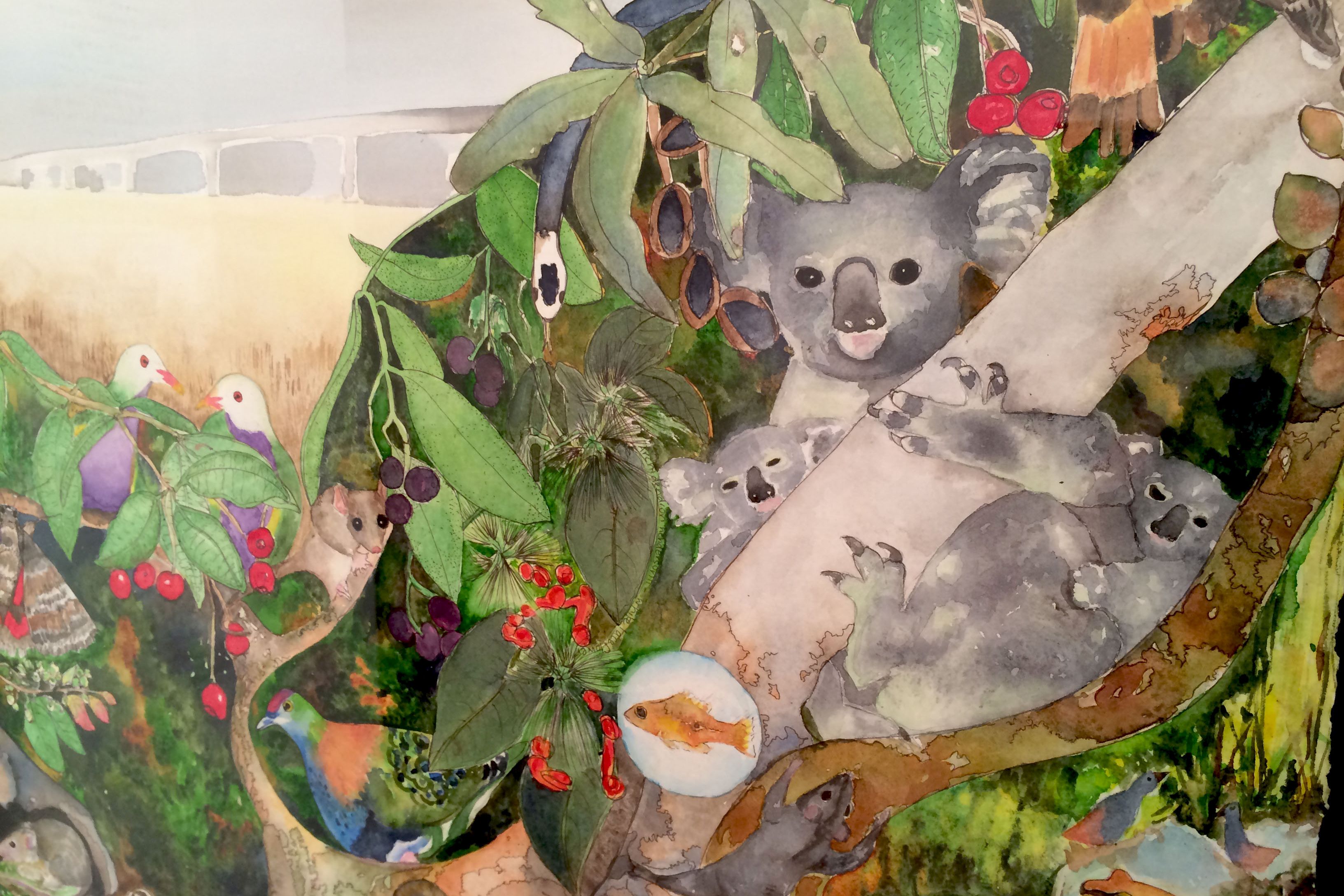 Jennifer Collins

Road to Nowhere | Jennifer Collins
Local artist Jennifer Collins is putting a call-out to make sure your voice is heard in Canberra to 'Save Ballina's Koala's'!
Jennifer's exhibition The Cedar-getters Daughter explores current local debate around the proposed highway upgrade between Wardell and Ballina. The artist has researched government documents issued on the highway proposal and its impact on the future diversity of local flora and fauna. 'Save Ballina Koala's' movement has been successful with informing people about the irreversible impact on the Koala population but the artist has discovered there is an alarming number of ecological communities and individual species that will also be permanently impacted by the highway deviation as listed in the government biodiversity assessment.
The artist says "It's not too late to stop the highway deviation" and invites visitors to the exhibition The Cedar-getters Daughter to take a FREE artist postcard and send your thoughts to the Federal Minister for the Environment.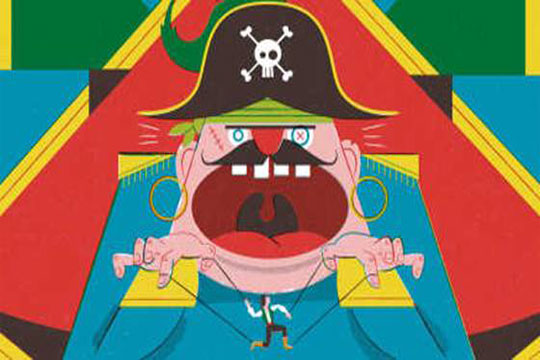 The Pirates of Penzance
The brilliant new product of Gilbert and Sullivan's 'THE PIRATES OF PENZANCE'
plays The Byron Theatre for one night only
Mike Leigh's operatic debut The Pirates of Penzance breaks UK cinema box office records.
"If you think you don't like opera, come and see this" - Mike Leigh talks about The Pirates of Penzance, watch the trailer.
The Australia national cinematic releaseof 'PIRATES' through Potential Films, has enjoyed wide spread success since it was released as part of the ENO 2015 season.
The opera boasts a local connection with - Joshua Bloom as the Pirate King, born in Australia, graduated in Melbourne and has sung principal roles with Opera Australia and New Zealand-born Samoan bass baritone Jonathan Lemalu plays the Sergeant of Police.
English National Opera's (ENO) cinema broadcast of Mike Leigh's production of The Pirates of Penzance is the UK's most successful opera on screen event, having taken in excess of 1.1M AUD at the UK box office so far, amounting to an audience of over 40,000 people, with encore repeat performances and international screenings still to take place.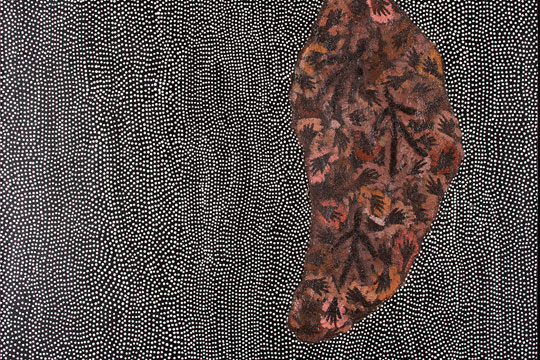 North Coast Indigenous art award
Grafton Regional Gallery calling for entries North Coast Indigenous art award
Entries have opened for a $6,000 award that promotes contemporary Indigenous art across the North Coast.
The biennial Clarence Valley Indigenous Art Award (CVIAA) is open to all Aboriginal and Torres Strait Islander artists who reside in Yaegl, Bundjalung and Gumbayngirr. The CVIAA is made possible with the support of the Yulgilbar Foundation and the Clarence Valley Council.
Mayor Richie Williamson said the award supports the Indigenous arts and culture in our region as well developing the collection of contemporary Aboriginal and Torres Strait Islander art held by the Grafton Regional Gallery.
"The award is being launched as part of 2015 Naidoc Week," Cr Williamson said. "The prize pool of $6,000 comprises the Open Acquisitive Prize of $5000 and an encouragement prize of $1000 for New Media work. The artwork which takes out the Open Acquisitive Prize is acquired into the Grafton Regional Gallery Collection."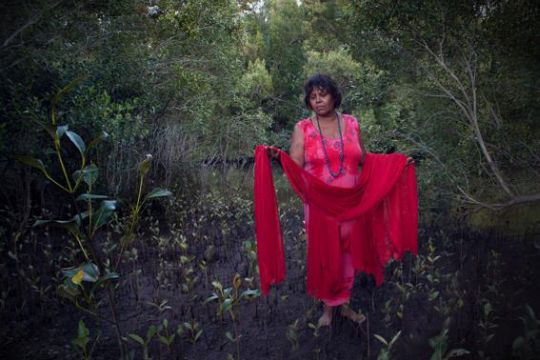 Babe in the Reeds Film Screening
Special film screening 'Babe in the Reeds: a story of massacres and resilience'
Producers: Lois Cook and ABC Open North Coast Producer Catherine Marciniak
Wednesday 15 July 2015 | 6pm - 7.30pm
The theme of this year's NAIDOC week is that we all stand on sacred groundwhich is exactly what local Nyangbul woman Lois Cook discovers when she starts researching the history of her great-grandfather Bubba Jack Cook. Lois takes on the role of a history detective to find out if there's any evidence to support her family's stories of massacres and a baby found in the reeds.
Join Geraldine Doogue on ABC's Compass program for the premier of 'Babe in the Reeds' on Sunday 5 July at 6.30pm for this special NAIDOC Week story.
Then on Wednesday 15 July 2015 join us at NRCG for a special screening and meet the filmmakers in a Q & A session directly after the screening in the Gallery.