News

Creative Studio Spaces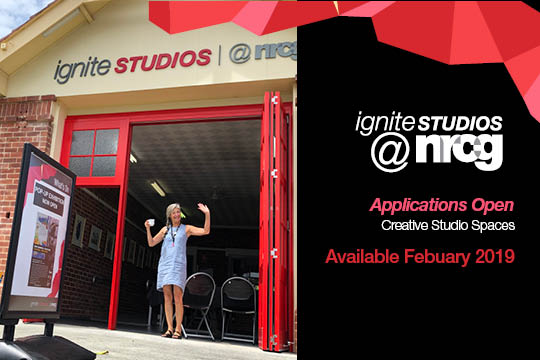 APPLICATIONS OPEN | Creative Studio Spaces
For tenancies commencing February 2019
Ignite Studios @NRCG, is Ballina Shire's newest creative space offering subsidised studios and event spaces.
Three studio spaces are available from February 2019 on a twelve month subsidised lease agreement, with the option to renew. Applications are open to creative practitioners from all disciplines, including but not limited to painting, craft, digital media, sculpture, photography, film, independant creative industry, arts administrators, curators, design, performance and writing.
For further information and to download the application form go to the 'Studio Spaces' tab under 'Ignite Studios' or contact Lee Mathers, Gallery Coordinator, on 02 6686 1494.

Exhibition + Ignite Open Day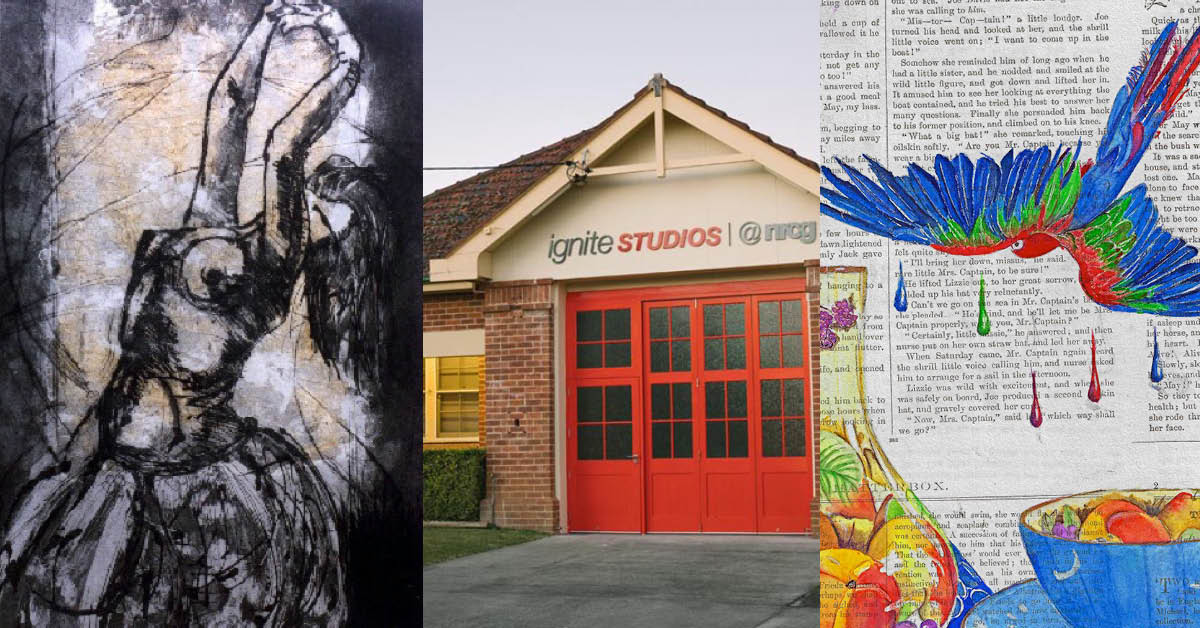 FIERY EXHIBITION + OPEN STUDIO | Lesley Ryan + Melissa Wright
8 December 2018
Ignite Studios @NRCG – 60 Crane St Ballina

Lesley Ryan and Melissa Wright have been sharing a studio in Ignite for nearly 12 months. In that time, they have worked towards a major exhibition at Northern Rivers Community Gallery. To celebrate and reminisce about their creative year the artists are holding an open studio and pop-up exhibition in the 'Engine Room'. Drawings, etchings, sculptures, watercolours and cards will be available in a one off 'Fire Sale'. Join the artists for a cuppa between 10.00am and 11.30am or attend one of their scheduled studio tours where they will share their creative process and discuss their work.

Exhibition open from 9.30am to 3.00pm
Morning Tea 10.00am - 11.30am
Guided Studio Tours at 11.30am OR 2.30pm

NO BOOKINGS REQUIRED

Join the Team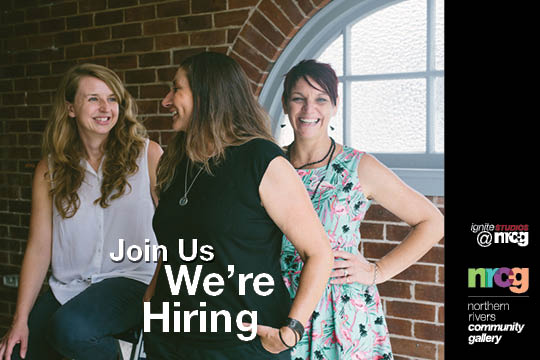 Strategic Partnerships Officer - Position Vacant
About the Role
The Strategic Partnership Officer reports to the Gallery Coordinator and is responsible for overseeing the fund development activities of the Northern Rivers Community Gallery. The position will actively manage the day-to-day operations of the Gallery's development function and secure financial partnership to support the Gallery's vision and growth.
This part-time grant funded position is for a temporary period of 50 weeks only. Hours of work for the position are 14 hours per week to be worked on Thursday and Friday.
Further information or to APPLY READ MORE

community survey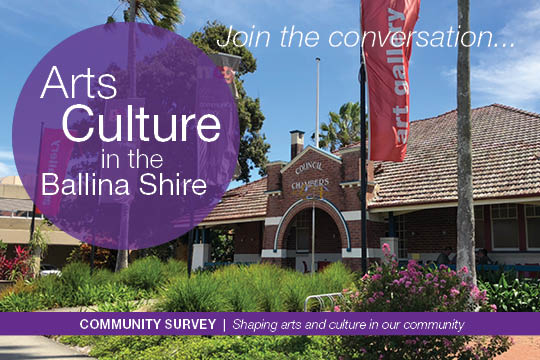 Shaping arts and culture in our community
The Northern Rivers Community Gallery (NRCG) is growing and we are seeking feedback on the future direction of the NRCG.
Your feedback will greatly assist the NRCG and Ballina Shire Council in how we can best meet the needs and aspirations of our community in shaping vibrant arts and culture programs, exhibitions, events and cultural infrastructure within the shire.
Additionally, the NRCG has been shortlisted for Stage 2 of the NSW Government, Cultural Infrastructure - Regional Cultural Fund and this feedback will support our application for urgently needed sustainability lighting upgrades to the Gallery and expansion of NRCG facilities to include 'Ignite Studios @ NRCG'.
Please have your say by completing a short 5 minute survey. Your feedback is important and will help us shape the future of arts and culture in the Ballina Shire.
CLICK HERE to complete the survey.

April 2017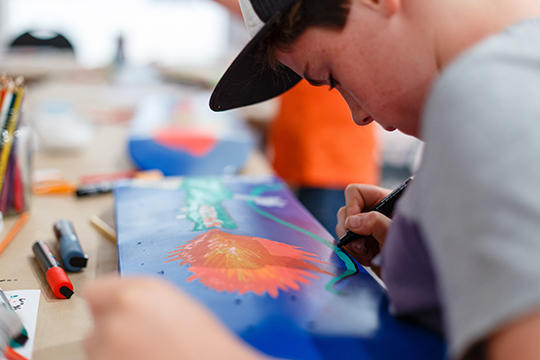 Images courtesy of Ben Wyeth Photography

Image courtesy of Ben Wyeth Photography

Image courtesy of Ben Wyeth Photography

Images courtesy of Ben Wyeth Photography

Jeremy Austin | Design-A-Deck

20 April 2017
Jeremy Austin joined us for a 2 hour skate graphics session, guided participants through creating their very own skate deck design. Participants learnt how to make an artwork from hand-drawn mark makings and to painting it onto a skate deck, so everyone walked away with an interesting and unique skateboard.
Sign up to our e-News to hear more about upcoming workshops and events.

Artist Bio
Jeremy is a local visual artist who works in a variety of mediums out of his studio in Lismore. A young Jeremy was busy soaking up the art of comic books, graphical science fiction books and Letraset lettering catalogues. Now a keen painter, illustrator, street-artist and a self taught screen-printer, Jeremy prints his artworks onto T-shirts and continues the exploration in mark-making by creating new works on canvas, paper and outdoors using recurring characters and motifs as a vehicle for the continued study into catatonic automatic drawing as well as muscle memory schematic drawing with the aim of bringing the immediacy of compressed line work from sketchbook to canvas to walls.

Event Sponsor: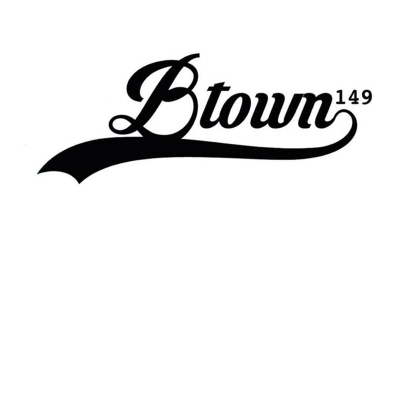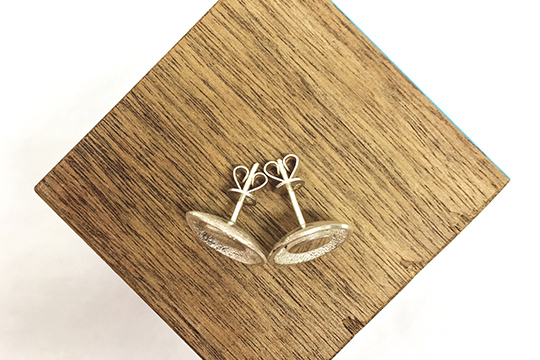 Lucille Atkins
Lucille Atkins is a jeweller/designer, currently studying at the Queensland College of Arts, Griffith University. Her objective is to create wearable jewellery/sculpture that uses already existing materials in an attempt to lessen her participation in the environmental degradation and human rights violation that can occur when any metal is mined.
Make sure to drop in to the Gallery Shop to see the range of Lucille Atkins we stock.
Support this amazing local creative talent - buy local, buy hand-made @ NRCG!